Background
Long-time client, The Blackpool Tower recently requested some new wall graphics from the team here at Links. Supplying wall graphics in Blackpool is something we do for a lot of well-known businesses in the area to bring attractions to life.
For example, we recently supplied wall graphics in Blackpool for Peter Rabbit and FriendsFest!
When visitors go to The Blackpool Tower the number one thing the majority want to do is go up to The Blackpool Tower Eye. You begin your journey to the top with a visit to the incredible 4D cinema. This brings the history of The Blackpool Tower to life.
Once you're up at The Blackpool Tower Eye 380ft off the ground you witness stunning views across North West England in every direction. You can also walk out onto the five-centimetre thick glass viewing platform if you dare!
It was our job to help enhance this entire experience.
The Project
Once you're out of the 4D experience you make your way to the lifts. Before we completed this wall graphics project the walls were just painted magnolia with a few vinyls added: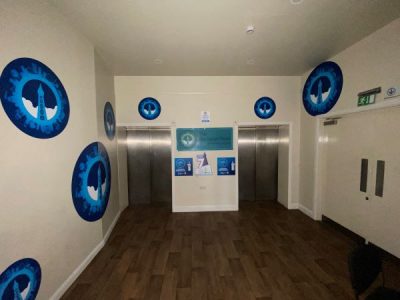 Aaron at The Blackpool Tower provided all the new content to the talented designers at Mediaprint Solutions who put together the artwork for the new wall graphics.
They then sent the finished artwork to us so we could print and install the wall graphics.
For this project we printed on 7-year grade vinyl with protective matt laminate. This makes the new wall graphics quick and easy to clean regularly, which in times like these is even more important.
We also used our latex printer which uses eco-friendly inks, something that we try to do as often as possible.
The Outcome
What a difference the wall graphics make to the room. They totally transform the aesthetics of the space and most importantly they significantly enhance the customer experience – which is ultimately what we needed to achieve.
No longer are visitors just waiting for lifts, that area is now part of the entire immersive experience. Following this project, every minute of the tour provides a moment to saviour and lasting memories for each and every visitor.
Contact Links Signs & Graphics
Are you looking for a wall graphics provider in Blackpool?
At Links Signs & Graphics we're more than just a sign maker. We pride ourselves on quality of service and expert craftsmanship. We always do what we say we will do, on time and within your budget.
Talk to the Links team today about your requirements and see how we can help. Call us on 01253 396 444 or email sales@linkssignsandgraphics.co.uk.
Find out more about our work with The Blackpool Tower here.