Background
Our client, Winter Gardens Blackpool asked us to come to site to meet the agency responsible for bringing the festive Friends exhibition, FriendsFest to the venue.
We put together a detailed document with an image of each signage point and sizing details so the artwork team had everything they needed to start work.
The Project
Most events use set signage points around the venue to promote events, both in the lead up and during the event.
With FriendsFest it soon became obvious that this was going to be a bit out of the norm due to the event's scale and the amount of signage needed to bring the exhibition to life.
Artworks started coming over to us a week before the opening date so we had to quickly get to work.
We produced and installed the following for the exhibition within that timeframe.
Internal
50 sq. meters of printed PVC banners.
30 sq. meters of window graphics
60 sq. meters of wall graphics
40 sq. meters of foamex panels
Various floor graphics and correx panels around the venue
External
Lamp post banners
Side of venue high level banner
Low level pelmet sign
Street level foamex panels
Street level aboard posters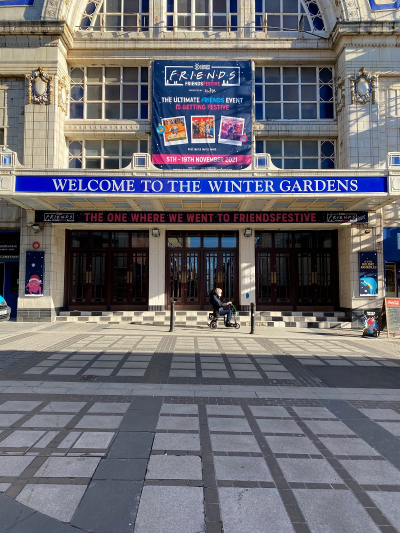 The Outcome
To be able to help on a project of this size and with it being for a show as notable as Friends was a huge honour.
Ellie Barnatt, project manager of FriendsFest, commented that we were very easy to work with and it was a pleasure working with us, which was great to hear.
Bringing an exhibition like this to town requires huge planning but once the artwork is set it's one less thing for the organisers to worry about it. Once an organiser sends all the detail to us we take care of everything sign-related from that point. It's vital that our clients can have every confidence in us that we will deliver everything on time and to their exact specifications.
Contact Links Signs & Graphics
This type of project shows exactly why we focus so much on being great communicators. We recognise that signage at an exhibition like this can make or break the event. We have to get things right and to do that we need to get heavily involved from the outset and use our experience of project management throughout. We have to do what we promise – to be more than just a sign maker.
Are you looking for a high-quality sign maker in Blackpool who can help you manage and deliver entire projects?
At Links Signs & Graphics  we pride ourselves on quality of service and expert craftsmanship. We always do what we say we will do, on time and within your budget.
Talk to the Links team today about your requirements and see how we can help. Call us on 01253 396 444 or email sales@linkssignsandgraphics.co.uk.