Manchester MET Uni Hoarding Graphics
At Links, Signs and Graphics, we produce hoarding graphics for a wide variety of purposes and clients. We recently produced and installed construction hoarding graphics for Manchester MET Uni, promoting the university's world-class education and vibrant student culture.
Back in November, we sent two teams of two men to Manchester bright and early on the day of installation and had the two runs of hoarding graphics installed by 2pm. We dressed two construction hoardings with a stunning matte finish, printed on Metamark vinyl. One side of the hoarding was 26m long and the other measured 20m long.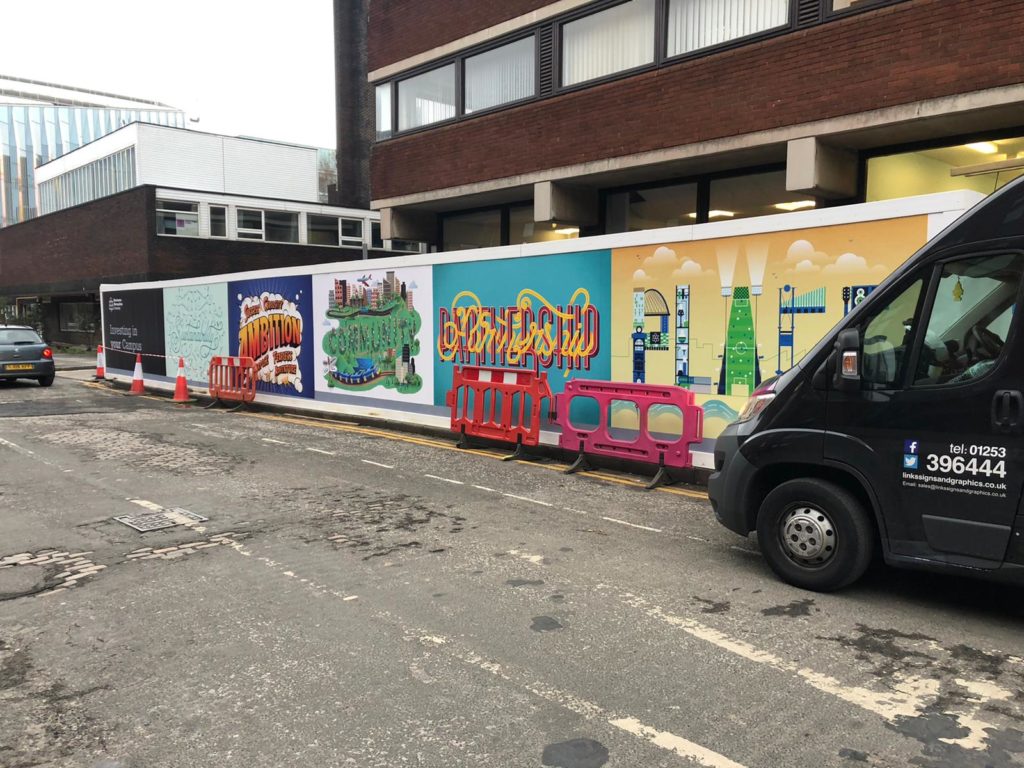 Lee Nicholson from Manchester Met Uni was thrilled with the outcome and said; "The graphics look great and finish off the hoardings nicely. Thanks again… the lads who carried out the installation were great too". What a creative way to spruce up a construction site!
Hoarding panels can be used for a large variety of purposes: whether your goal is to educate, promote, or spread awareness, our team can create graphics for informational purposes, brand awareness, and/or product promotion. Get in touch with us to find out more about our hoarding graphics or any of our other bespoke services!
Enquire Now
To enquire about our products and services or simply have a chat, you can contact us using any of the following options: call us on 01253 396 444, send us an email at sales@linkssignsandgraphics.co.uk, or fill out our form on the Contact page and a member of the team will be in touch.
Connect with us on Social Media
Alternatively, you can also send us a message through Facebook and keep up to date with our latest client work and company news on Twitter, LinkedIn, and Instagram. Don't forget to give us a like and press that follow button!