Your construction site hoarding graphics provide wall space that you need to make the most of. Transform a potential eye sore into something that generates excitement and anticipation amongst passers-by.
Here we look at what construction site hoarding graphics are capable of achieving.
A)    Generating interest
People generally won't know exactly what your new development is going to be. If you use your hoarding to its full potential you can proactively share knowledge about the project. Given this is large, currently untapped promotional space it can prove particular powerful in gaining the attention of a large new audience of potentially interested parties.
B)    Generating sales
Construction site hoardings are usually large spaces but passers-by won't be standing around to read or look at what you're trying to promote for long. You've got to make sure your sales message is to the point and can tell people all they need to do in a few words backed up with some striking imagery or your branding.
If you can get this right you can attract enquiries. Enquiries that will eventually lead to sales and these will be customers you may not have had access to if it wasn't for your construction site hoarding graphics.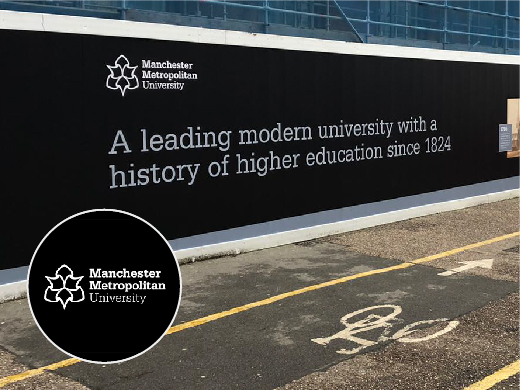 C)    Raising awareness
Perhaps you're not looking to generate commercial interest. Your project could be something that's improving the local area or part of a non-profit scheme.
This doesn't make getting your message across to locals any less important and you need to apply the same thought process of portraying your message succinctly and effectively.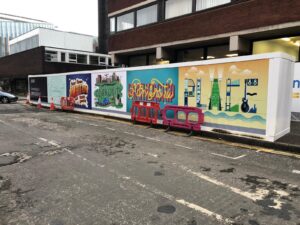 D)    Brightening up the area
It's no surprise that some construction sites are unsightly and they can dominate the local area. Using construction site hoarding graphics can make a huge difference to the look and feel of an area whilst you are completing your project.
Also, there's a lot of local areas that are targets for regeneration. When construction schemes start in these areas hoarding graphics can play a big part in getting some excitement running through the community again.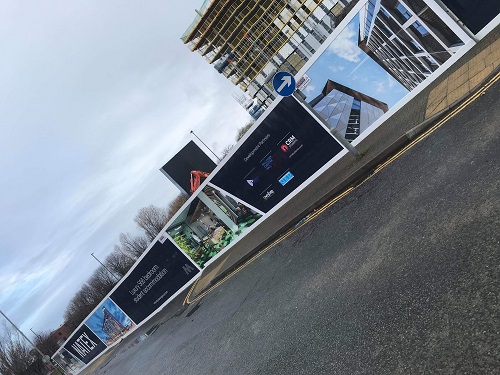 E)     Getting locals on board
Some construction sites or plans for new developments aren't always the most popular. Using hoarding graphics effectively to portray all the benefits your project will deliver can help you persuade locals that it's a good thing. Use hoarding graphics to drive support and prevent criticism or objections.
The overall impact of hoarding graphics
So, whether you're building luxury apartments or a new youth centre, it's clear that well planned and executed construction site hoarding graphics can influence people to engage with you in a positive way. Whether that's purchasing a unit or supporting your local community project rather than opposing it.
Producing construction site hoarding graphics
There's many different ways that sign makers can produce your new hoarding graphics. These include: rigid metal boards, self-adhesive graphics with anti-graffiti laminate, high gloss graphics and more. With the right sign maker everything can be bespoke and made to your exact specification.
How Links Signs and Graphics can help
That's exactly what we do here at Links, and our process is simple. We can come to your site to conduct a survey and then either work with you to create the designs or work with your design agency. Then, once you have signed off the designs and we have agreed on a production method, we can get to work on the manufacturing and installations. Simple!
Talk to us about your project today by calling the team on 01253 396444. Alternatively, contact us here or feel free to email sales@linkssignsandgraphics.co.uk.