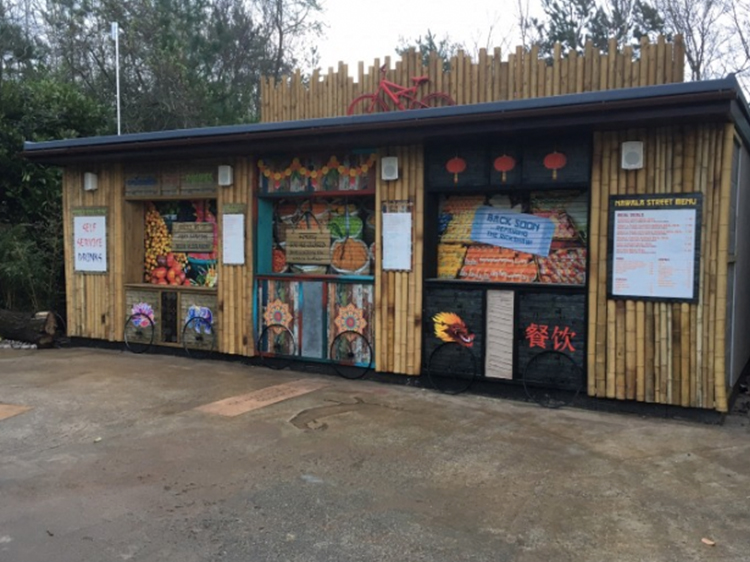 External Signage at Newala Street Food Kiosk, Blackpool Zoo
A couple of months ago Blackpool Zoo approached us to ask if we could do some external signage and wrap 3 metal roller shutter doors. They were in the midst of constructing a new asian food kiosk within the park and the brief was 'make it look authentic'. Once the kiosk was constructed there would also be menu panels and fascia panels to manufacture and install.
We sat down with them and they supplied a list of images that they would like to use for the various elements and then agreed on which images would be used where. Following this meeting was a few hours of extensive design work by our in house design team and we were delighted when both proofs that were set were approved first time.
Then came the production, firstly we wrapped the 3 shutters, Keman Roll Shutter doors delivered them to us, we applied the vinyls and then Keman installed them on site, once the kiosk was ready it was then up to us to dress the front of it with the edge wrapped panels that we had produced, the end result is stunning and one that we are sure a lot of visitors will enjoy.
This was one of those 'bit different' projects that we love to get our teeth into and we hope it shows our imaginative design skills and the wide range of signage that we can produce on our state-of-the-art printers. If you would like to visit Blackpool Zoo please click here to visit their website.
If you have any questions about Links, Signs & Graphics, the work we have done or the services that we offer, please feel free to contact our friendly team. Also, if you have a project you'd like to discuss please speak to us about your requirements. You can either call us on 01253 396444, visit our contact page here or email sales@linkssignsandgraphics.co.uk and someone will be in touch with you shortly.#morethanjustasignmaker