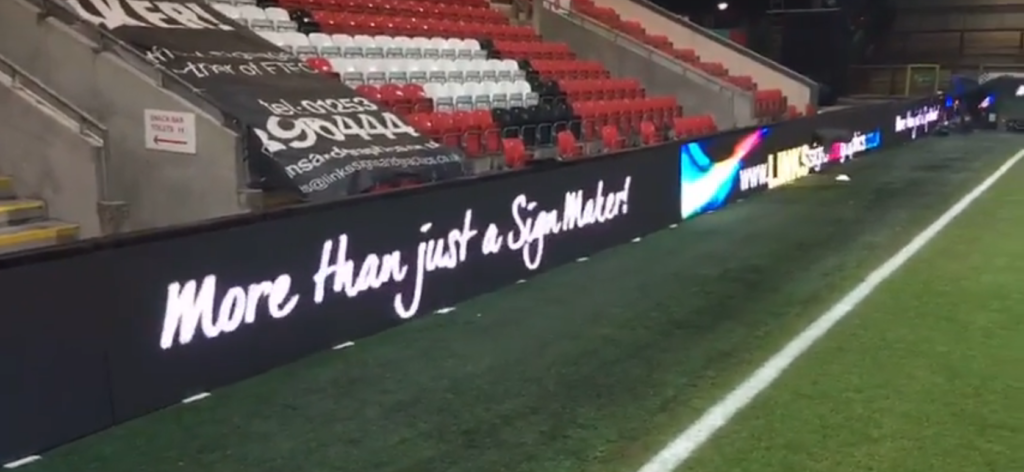 Digital Hoarding Signage for Links Signs and Graphics, Blackpool
Last weekend Fleetwood Town played at home to Leicester City in the Fa Cup 3rd round. The game was televised by BBC which meant lots of changes in and around the ground.
One of the requirements was that Electronic Digital Pitch Boards had to be in place.
As Fleetwood Towns preferred signage supplier this meant our advert would be shown on the Boards throughout the game, what's so special about this I hear? Well the game was broadcast all over the world and figures show that over 6million people in the UK alone watched the coverage meaning a lot of those people will have seen our brand throughout the game.
It is also estimated the game had a reach of 39million worldwide – wow, not bad!
Here at Links we are constantly looking at ways that we can enhance our brand by way of advertising and new products, if you have been thinking about a re-brand or starting a new business and you want to talk to a company who you can trust to deliver on time and within budget then get in touch.
#morethanjustasignmaker
If you have any questions about Links, Signs & Graphics, the work we have done or the services that we offer, please feel free to contact our friendly team. Also, if you have a project you'd like to discuss please speak to us about your requirements. You can either call us on 01253 396444, visit our contact page here or email sales@linkssignsandgraphics.co.uk and someone will be in touch with you shortly.