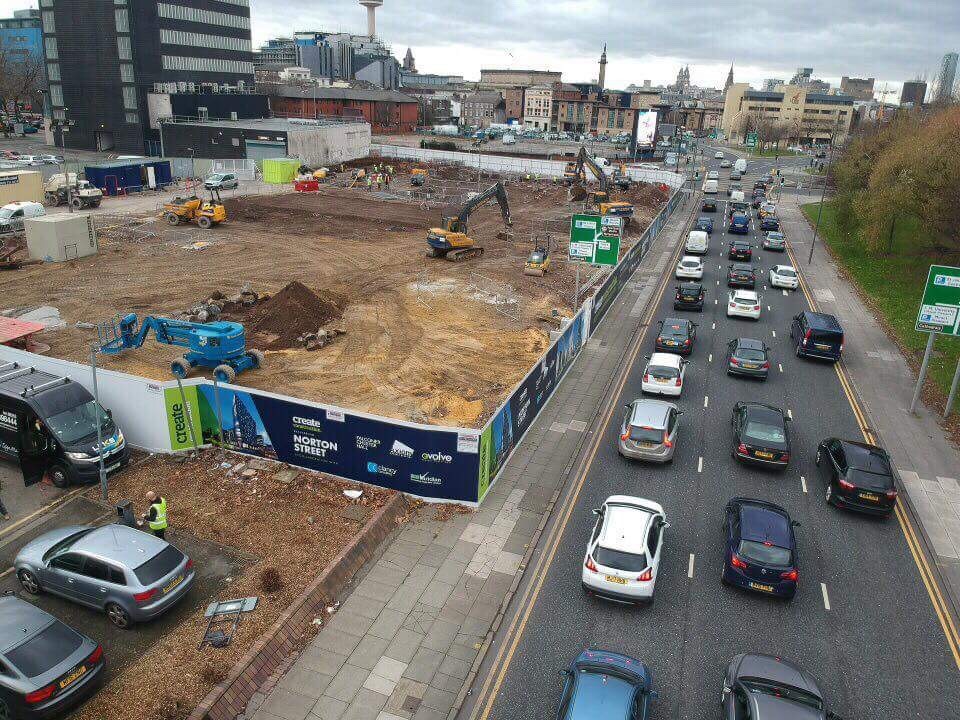 Hoarding Graphics Galore
In October this year we were asked by one of our customers, the Create Group UK, to go to Liverpool to carry out a site survey on some potential Hoarding Graphics. They had just signed up to a new development and wanted to dress the hoardings to advertise what it is they are building.
Initial conversations involved various options for dressing the Hoardings and following a quote submission it was decided that they would like to completely cover the Hoardings.
We then went back to Liverpool to carry out a detailed survey so that we could give the designers all of the information they required to ensure the Graphics ran seamlessly across the entire Hoarding.
Once the artwork was received, we printed 350 linear meters of Hoarding Graphics over a 5-day period, with 2 printers running day and night. They were then ready to be laminated and cut following a 3-day gassing off period for each roll, which the lead us to Monday morning, 4th December 2017. It was anticipated that the install of the Graphics would take 3 full days for four men – luckily the weather was kind to us and the installation was complete within 2 and a half days.
Our client is extremely pleased with the end result as are we and the installation would not have run as smoothly as it did without the meticulous planning leading up.
If you have any questions about Links, Signs & Graphics, the work we have done or the services that we offer, please feel free to contact our friendly team. Also, if you have a project you'd like to discuss please speak to us about your requirements. You can either call us on 01253 396444, visit our contact page here or email sales@linkssignsandgraphics.co.uk and someone will be in touch with you shortly. Make sure to follow us on Facebook and LinkedIn.