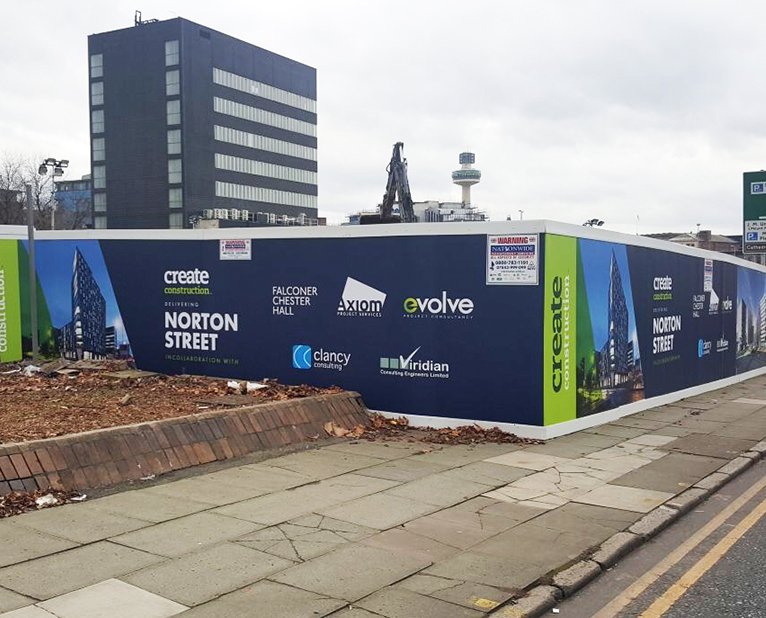 Construction Hoarding Graphics: Why Should You Use Them?
You've more than likely seen Hoarding Graphics scattered around your town or city without giving them much thought, but did you know they are one of the most effective forms of advertising?
Despite often looking unsightly, it's been found that optimising construction site hoarding with large photographic material and short, eye-catching slogans can enter the subconscious minds of over 90% of people who walk by!
At Links, Signs, and Graphics, we produce site hoarding graphics for a variety of purposes guaranteed to grab the attention of onlookers. So, keep on reading to find out why you should be using them to promote your business or development…
Can I Use Hoarding Graphics to Promote my Business?
Hoarding panels can be used for a large variety of purposes: whether your goal is to educate, promote, or spread awareness, our team can create graphics for informational purposes, brand awareness, and/or product promotion.
You can take advantage of the hoarding panels around your construction site to advertise the development that is currently being built. For example, if housing is being constructed, the graphics would raise awareness and ignite attention from those seeking a new home. Advertising for an upcoming café, restaurant, or shopping centre, on the other hand, builds up interest within the general public and can be extremely effective at generating hype for that specific business across a town or city.
Often found within retail premises, shopping centre units, or offices in commercial centres, your promotional material is certain to reach your intended audience and get noticed.
Is it Cost-Effective?
With most forms of advertising, purchasing large space on external billboards throughout busy areas can be expensive. Using site hoarding to promote your products or services is not only an ideal way of attracting attention, it's also extremely cost-effective.
Advertising through other channels such as television, magazines, or online usually requires a 'pay-per-insertion': meaning you pay for your advert to be displayed for a certain amount or number of times, and can be skipped or switched off if online or on TV.
Graphics printed on hoarding panels, on the contrary, are constantly on display – making them the cheapest form of continual advertising!
Your promotional material is advertised 24 hours a day, 7 days a week.
What Installation Options Are Available?
Whether you have a uPVC or wooden style hoarding, here at Links, Signs, and Graphics, we have a product to suit most applications.
With our modern digital printing technology, we can produce and install your promotional graphics using a vast range of different materials, including; rigid metal boards, self-adhesive graphics with anti-graffiti laminate, high-gloss graphics and many, many more!
Get in Touch
Contact us today to enquire about our services and view examples of our work here.